The stigma around mental health is slowly dissipating. Organizations are more focused than ever on supporting the mental health of their employees. This progress is important, especially for professional women — who are twice as likely as men to suffer from anxiety and depression. The discrepancy is even more pronounced for mothers and women of color.
In this episode, happiness expert Jenn Lim will talk about mental well-being and the pursuit of happiness in our new pandemic abnormal. We will explore Jenn's "Greenhouse Model" to show how we can grow teams and businesses while first tending to our own personal greenhouses.
This episode has been brought to you by Cisco.
---
Jenn Lim
Jenn Lim is the CEO of Delivering Happiness (DH), co-founded by Tony Hsieh (the late CEO of Zappos.com). DH was founded to create happier company cultures for a more profitable and sustainable approach to business. Delivering Happiness started as a book (New York Times and WSJ best-seller which sold one million copies worldwide), and evolved into a business consultancy and global movement that has impacted and inspired companies and organizations around the world. Lim's mission is both simple and profound: to teach businesses how to create workplaces—led with happiness and humanity—that generate more profit, sustain all people at every level of the organization, and share how we can make an impact by being true to our authentic selves. In 2017, Lim was selected to be on the Global Happiness Council of Work and Wellbeing and in 2020, Delivering Happiness was placed on the Inc. 5000 list, becoming one of the fastest-growing private companies in the US. Lim helped create the world's first series of Culture Books at Zappos.com, and has been featured in Fox Business, Inc., Forbes, Fortune, Entrepreneur, The World Happiness Report, The Guardian, Fast Company, Thrive Global, and more. You can find Jenn speaking at events around the globe, on podcasts like The Dave Ramsey Show and Don Miller's Building a Storybrand, working with organizations to create positive change in the world, or starting spontaneous dance parties with her friends and family. Jenn lives in the Oakland Hills, CA. Her new book is Beyond Happiness: How Authentic Leaders Prioritize Purpose and People for Growth and Impact. @byjennlim
Celeste Headlee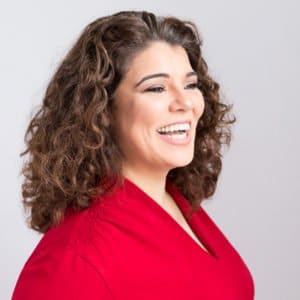 Celeste Headlee is a communication and human nature expert, and an award-winning journalist. She is a professional speaker, and also the author of Speaking of Race: Why Everybody Needs to Talk About Racism—and How to Do It, Do Nothing, Heard Mentality, and We Need to Talk. In her twenty-year career in public radio, she has been the executive producer of On Second Thought at Georgia Public Radio, and anchored programs including Tell Me More, Talk of the Nation, All Things Considered, and Weekend Edition. She also served as cohost of the national morning news show The Takeaway from PRI and WNYC, and anchored presidential coverage in 2012 for PBS World Channel. Headlee's TEDx talk sharing ten ways to have a better conversation has over twenty million total views to date. @CelesteHeadlee
---
Additional Resources:
More from Women Amplified
---
Transcript of Jenn Lim's Interview on Women Amplified
Celeste Headlee:
So something that we've seen over the pandemic is that companies have started investing more into wellbeing programs, and they're not always paying off the way perhaps they should, or the way people expect. Can you give us an idea of why you think that is? Why is there a disconnect between some mental health initiatives and actual increases in wellbeing?
Jenn Lim:
Yeah. I love this question because you're right. There's tons of companies that are investing in this feel topic, whatever you want to call that, wellbeing or happiness. I think the disconnect is that the solution is not in a simple tool. It's not getting a Calm app or Headspace app for everyone in the company and calling it a day. Those tools are super helpful, but the disconnect is, "What's the real need and how do we address it with individuals?" And it requires people to be able to have these conversations and be able to sit down with people to have one-on-ones or team sessions of like, "Hey, how are you and what are you going through right now?" from a more holistic perspective. So I think if we can work on that, then investments in these kind of programs will be so much more impactful.
Celeste Headlee:
The World Health Organization was already warning us about a burnout epidemic before the pandemic began. And it looks like the numbers of employees reporting symptoms of burnout has been on the rise. As a corporate community, did we make some bad decisions in order to deal with and cope with the COVID-19 pandemic?
Jenn Lim:
I guess it's hard to say whether those decisions were bad, because I think everyone was trying to react and it was almost like a triage situation in a hospital. And some people in hospitals were actually experiencing it, but for companies, it was, "What do we do? What the heck are we doing right now and how can I help?" kind of feeling. I just don't think that's ever a bad decision. It's only bad if it continues without something being learned from it and how to course-correct and adjust and adapt to what the real needs are of our particular company, team, or community or society at large. But if we're not listening and from the data, the stats and the stories, and adjusting and adapting to those things, that's when it becomes a bad decision.
Celeste Headlee:
What do you think we have learned? What have you learned from what we've seen over the past two years?
Jenn Lim:
I think that there's been just so much, in some ways trauma, in some ways loss and not just loss of loved ones, but loss of hope, or loss of autonomy, or control, loss of expectations. And because of that, it's more important than ever to ground ourselves in number one, psychological safety, in being able to feel human and being able to show up that way, both in work and life. And then I think as leaders, when we're aware of that within ourselves that helps us become even better leaders for others to create that space where people can feel safe to say, "I'm having a crappy ass day," and being able to have the environment where we can have those conversations. So for me knowing that I've been with the Delivering Happiness business for 11 years now, we couldn't talk about happiness for a while. And for some people they still don't want to talk about happiness. So it's being able to reframe the conversation. We all still want to be happy. This is true, but there's more than that now. And I think being able to, as leaders, create that space to have these conversations is more important than ever.
Celeste Headlee:
Is it a zero-sum game between productivity and these wellbeing and happiness initiatives? If you invest in giving someone space to take a day off when they need to, does that mean you're losing productivity?
Jenn Lim:
My findings of what we've been doing with clients and people, is that it's actually a positive-sum game when you do these things. Excuse me. Essentially, when you invest in these things and actually encourage people to walk away from this computer, or walk away from Zoom-land, whatever it is, their productivity through research and science shows that it increases when they come back, like a literal walk in the park can actually increase that. I know it's really counterintuitive to knowing that we're in a recession, people are hurting, profits are hurting, but it goes back to the data. If you can actually encourage people to take breaks and to be in their moment of mindfulness, and to be in the moment of nature, whatever it is that helps them, they'll be that much more productive, engaged, and purposeful for you as a leader or a company, and therefore the bottom line.
Celeste Headlee:
There was a recent Gallup poll that said the greatest factor that contributes or detracts from a person's mental health is their job. And as we mentioned, burnout is on the rise right now. It was before the pandemic, it's gotten significantly worse since then. And then we compare that with the numbers of people resigning from their jobs. And it's hard not to make a connection between those things. How does a worker, many of the people that are listening to us right now are not only leaders, but also employees. What kind of things can they do to address an issue if they're beginning to feel burnt out and they're feeling like throwing up their hands and leaving?
Jenn Lim:
Yeah. There's a lot of layers to that question, but I do want to caveat, when I say leaders, I don't necessarily mean a manager or a CEO. I believe and I've seen it time and time again, that leaders happen within ourselves, whether you're an employee or C-level. We have a choice and sometimes it's harder than others, but we have a choice to be a leader in our own life and our own work life, because it's so integrated now. I just want to make sure that's where I'm coming from.
Celeste Headlee:
Right.
Jenn Lim:
And, then the next build off, of that concept is that when we spend the time like Great Resignation, I think it's actually amazingly great for everyone because it's also a great awareness and awakening of people really realizing, we had months and months and months of just spending a time to ourselves or with our family in the same room or house or whatever.
But the reflections that I've been seeing where people are just honestly like, "Why am I doing this again? Why am I spending my precious minutes of the day doing this kind of work when I'd rather be prioritizing myself, or my loved ones or my family and friends," that kind of thing. I see this as a huge opportunity to address what you're saying with burnout.
Only we know as individuals can address that burnout, because only we know what's actually causing it. And so that's why I'm so passionate about this work that we do, it's because when we spend the time and be intentional about who we are, like our purpose, our values, how do we want to live our life, how do I spend our minutes of the day? Then we know how to address a burnout. Our bosses and managers, board members, don't know how to do that, but we do. And that's where I think the power of being able to say, we're the leader of our own personal work life comes.
Celeste Headlee:
What advice can you give to someone on having this conversation with their supervisors or their executives? If they feel that their job is burning them out, if they feel exhausted, if they feel overworked and overloaded, how do they broach this with leadership that perhaps has not gotten on board yet?
Jenn Lim:
Yeah, totally. Number one, I think just a reminder to have these conversations is to remember that they're people too. I know that sounds weird, but the empathy piece of it is like they're probably burnt out too in some form or another. I massage this quote a little bit, because it's not all about being kind anymore. It's about being human and realizing everyone has something that's going on that we don't know about. So by having number one, the empathy and then coming to the table when it comes to workplaces and when it comes to, "Yeah, we all have a job to do. We have a role. We have responsibilities and we get paid for it."
But when we come to the table and have the empathy and having that conversation with our boss or supervisor and saying, "Hey, this is what's happening to me, but I know we need to do this and I want to support you in your goals. In order for me to do this, this is what I would like to lay out X, Y, and Z so that I can perform better and meet these goals for you and for us as a team and therefore a company." So when you come to the table with that, where it is a positive-sum game because you are helping them and they're helping you. And then it's what I talk about in my book, it's the triple win and therefore someone else is going to benefit from this, whether it's your customers or your family and almost importantly and all that. I just really encourage having those conversations where the respect is across both sides if not all sides of who's being impacted by the decisions.
Celeste Headlee:
We've talked about the pandemic and how that has increased people's stress, but there's been other things going on that have raised stress levels. There's been a lot of political upheaval. Certainly there's been racial tension in the Asian… It's Asian American history month as well as mental health awareness month. And we know that there's been a lot of incidents involving hate aimed at the AAPI community. It's impossible for people to leave that entirely at the door when they get to work.
Jenn Lim:
Yeah.
Celeste Headlee:
Especially people of color and women, how do we deal with all of these exterior pressures and concerns even in the workplace where sometimes it's not considered professional to talk about them?
Jenn Lim:
Yeah. I think there's been a huge shift and if I'm not being overly optimistic here, in that the conversations we're having are more real. And just a quick example like, thank you, Simone Biles for taking your workplace on an international stage and saying no. And there were definitely haters and there are definitely people that just said, "Yes. Thank goodness, someone's finally taking a stand." I know we're not all Olympians, but we all are in our right of how we live our lives and the approach that we've been doing and it's even more accentuated now, is bringing our whole selves to work. So as women, as leaders, as human beings, when we realize and I think we are realizing it in the last couple years especially, is that we are our whole self, whether or not we're at work or behind Zoom-landor whatever, or in Zoom-land.
And when we entertain that conversation or encourage it, number one, within ourselves. When I talk about being authentic and I think I talk about this a lot in my book because there's so much more to that of how we show up at work. It's being authentic to every aspect of us, our highs and our lows, so our mental state, our emotional state, our relational state, our physical state, and of course our spiritual, our purposeful state. If we start doing that within ourselves even if no one believes this stuff, that creates a shift in being able to control what we can because that's within us.
And then if we can encourage these conversations within others, in teams and therefore companies, you'd be amazed how deep the conversations can go and how deep the relationships become even in Zoom-land, because it becomes real. And so I think that's the best thing we can do for ourselves, is getting real with that conversation and then expanding it to others. And then you actually see the productivity and the engagement and all the profit stuff come. But especially right now, it's like this whole idea of self-care and self-love is so prevalent. But it's like, "How do I do that?" Let's just begin with ourselves and being real about those conversations from a holistic place.
Celeste Headlee:
I can already hear Jenn, the questions from listeners saying, "I don't feel comfortable speaking up about this stuff. I don't think my workplace is a place where it's okay for me to talk about issues of discrimination without getting punished, without being seen as a complainer or a troublemaker." Any tips on how to handle this in a productive way?
Jenn Lim:
Yeah. I would say that it's easier said than done. But because of the Great Resignation, so something to consider is even though it might be hard, but people resigning and expressing with their feet out the door for a reason. That would be a consideration knowing that it takes a lot of effort to get there, to say there are other opportunities and other companies out there that will embrace this, or that will entertain this kind of conversation. But if that seems too hard at least at this moment, I would say how to address it more immediately is choose your community. There are other people, I guarantee you, within your team, a company, whatever it is that feel exactly the way you do and just start there. That builds a bit of momentum in being able to engage in that way.
It's basically carve your own success. Success, not in the terms of making more money. Success in terms being able to establish communication and establish a sense of community. It might not be everyone in your company or team, but there are people that do want to engage in this more than ever. I think companies are our modern day villages. We spend so much time there. What do we seek right now? We seek love, belonging, being able to be heard and understood. How can we find that outside of our family and friends? It's within this modern a village of our companies. What's interesting that I've also seen is, the more vulnerable you are, the more vulnerable other people will be. And that's when you see how you can carve out the success to be engaging in those, if not leading those conversations.
Celeste Headlee:
So I want to talk a little bit more about specifics on how to create these healthier and happier environments in workplaces. And so to start off, I want to hear about what you call the greenhouse model. You've talked about this framework that allows companies to be more flexible. Can you tell me what the greenhouse model that you advise is?
Jenn Lim:
Yeah, so the greenhouse model, it occurs at several levels. So the me, which is obviously the individual, there's the we, and then there's the community, which is essentially our ecosystem of customers, vendors, and partners. Anyone we touch and now, especially society and planet earth are so integrated within that. So it all starts with the me and the whole metaphor or analogy comes from, we as people, especially women, are so inclined to take care of others and we want to grow other greenhouses, whether it's at work or children. And we yet still forget that we need to put on our oxygen mask first, maybe because we don't fly as much anymore. So we don't hear that message as much, but a big part of the greenhouse framework is to make sure you're nurturing your own greenhouse as you grow others.
And from a tactical level, being able to nurture a greenhouse means having, and I talk about this in my book, it's very practical in terms of identifying your purpose and it could be draft. It should be not daunting. Identify your values, what's most important to you and start from there. And then the greenhouse starts to build from first yourself, and into the me, then the we, and community. The other environmental elements of the greenhouse, the conditions are being able to be adaptable, accountable, create a sense of belonging and committed to this. Because this is all a journey for all of us and knowing it can't be marked off in the course of a day, but realize when you have these conditions, then you're creating something that can grow for the long-term in a more sustainable way.
Celeste Headlee:
I wonder if you can give us two or three things that a leader could institute right away or quickly that might improve their team members' wellbeing. What are some fixes that they could institute immediately?
Jenn Lim:
Yeah. The question in itself has been coming up so much and the most tactical practical thing is to invite not just yourself, but other people to do these exercises of identifying purpose and values. Basically if you're a leader of say 10 people or five people, don't just do it for yourself, do it with everyone and have a conversation about it. And purpose, how we distill it is essentially what lights you, positive or negative. What energizes you, or what pisses the hell out of you? And then also what's your talent? Then also, what kind of impact do you want to make? Those three questions, I tell you time and time again, when you ask everyone in your team to do that together, you'd be amazed how much alignment and overlap there is. That just automatically starts gelling people in a more meaningful way.
And then I would say in another exercise is to identify your values. And something we have done and so impactful right now, is we call it the Happiness Heartbeats exercise and acknowledging that is not just our highs that we learn our happiness from, it's also our lows. And so when you name and identify what are your top three highs in your life? Not just work, but life. And then what are your top three lows? For example, for me, one of my highs was building a company, climbing Mount Kilimanjaro. My lows were losing my dad 18 years ago and losing my business partner and one of my best buddies last year, Tony. Being able to create that snapshot for yourself, then you can actually pull out the themes of what's most important. And for me, my values because of these moments in my life, was a sense of autonomy, freedom, a sense of relationships and a sense of authenticity.
Just imagine you're doing this with everyone in your team. Make sure you have some clinics around because that's when you get the real deal. And then no matter what, if you're in Zoom-land or not, you get to get this sense of connection. And then so no matter what your business priorities are, your goals and all that, then therefore we're all looking to work together to make those things happen. So those are the first two things that I've seen so impactful, especially right now since COVID happened.
Celeste Headlee:
Okay, so is that different from what you would advise to all the listeners and how they can personally take control? We have so many people and we've heard from many of them who are struggling with their mental health right now. They are perhaps not in a workplace where the leadership are going to listen to you right now, or read a book like Beyond Happiness, or engage in the exercises you just said. What would you tell them?
Jenn Lim:
I would just remind that part of this is that, I really highlight the fact that we need to do the work within ourselves. But when we do this kind of work with other people, and again this is just humanity 101 type of work where even if the CEO doesn't believe you or the manager doesn't give a crap, when we help others and hold a mirror and not necessarily try to be the mechanic and fix everything, that is a big part of our own personal fulfillment, happiness, and therefore purpose. I'll speak for my own personal experience. One of my lowest lows was after Tony passed and it wasn't until I was able to identify that I need to open my own mental health to others, share my experience with others, that really helped me get back to a better place.
And it seems counterintuitive. Sometimes it's super hard when going through these tough times, but I would just encourage the fundamental system of how we live as human beings. Part of our purpose is not just fulfilling our own goals and happiness, but part of our purpose is helping others. And by sharing those low moments or states of mental health, I think we all can recognize that in the end we are here to be a community, to belong with each other, and to be able to express and be heard and understood. That's what I would suggest.
Celeste Headlee:
Just to keep everyone with us, Tony was the founder of Zappos and was your co-founder of the company, Delivering Happiness, who passed away.
Jenn Lim:
He was the CEO of Zappos and yes, and the co-founder of Delivering Happiness. Yes. Thank you for clarifying that.
Celeste Headlee:
Can you tell me why you called your book, Beyond Happiness? You have a company that's called Delivering Happiness, and yet you wrote a book called Beyond Happiness. Why?
Jenn Lim:
Yeah. I didn't even come up with that title till the very end. January, 2020, the whole world was optimistic, I feel like. I had this really neat and tidy outline and I was supposed to write that book. And then of course to paraphrase Mike Tyson, " Everyone's got a plan until you get punched in the mouth," and everyone got punched in the mouth, if not many times. And so for me, every time I saw a newsfeed headline from pandemic to recession, to social unrest, to racial inequality, to all these things, I couldn't write that book anymore.
And then of course, ultimately my biggest loss, and again, I know everyone went through some loss of loved ones and hope and autonomy, was Tony passing right after Thanksgiving in 2020. And here I am, every time I saw the news headlines and then of course that major blow at the end of the year, I was almost rewriting the book because it wasn't enough, I didn't feel, to capture all these things that you're asking about of the things that are happening in our own lives that are most personal to us, like Asian hate, like all those crimes and black life matter. All that stuff is crazy.
That's where I really had to process and really take a step back like, "What is it am I really trying to say?" That's when I realized happiness is of course something we all want, but it's not everything. And being able to be still and at peace with not just the highs, but also the lows within us and therefore humanity, that's where this mental health stuff that you're also mentioning comes in. What are our strengths? Of course we want to celebrate that.
But what are our shadow sites? What are the things that we're sweeping under the rug that happened, maybe traumas when we were growing up that we thought we were over, but we never really were because we never addressed them. That's why I really wanted to expand the conversation so that it's beyond happiness. It's just not enough to not be real about the underside of who we are as individuals and look at each other with not just happiness, but with humanity, both at work and in life. That's where I eventually landed. It's just not enough to be happy.
Celeste Headlee:
Is it working for you?
Jenn Lim:
For me personally or?
Celeste Headlee:
Yeah.
Jenn Lim:
Yeah. Part of writing that book was me processing what was going on, not just with Tony's passing, but what was going on in the world. I think the previous time prior to that was when 9/11 happened. 9/11, I got laid off and I lost my dad all within about a year's time. That changed my life frame and made me realize I need to reprioritize how I spend my days. That's when Delivering Happiness happened and all these great things. But then that moment of series of events, kind of moments that culminated into, "How can I share in a way that's as real as I can be of what I've seen that can work?" Not just for companies and doing this consulting thing or whatever, but really getting to the heart of who we are as human beings and how we can live a more real and loving legacy today before we're gone, for ourselves and each other.
So in some ways that book was probably one of the hardest freaking things I've had to do, but I learned a lot in that. I'm still learning and just even having this conversation with you is part of the process of how it's helped me get to this new place of grounding myself in everything I've learned, but knowing that we as human beings, where there's so much expansion, so much light in all of us, and what else are we here to do except to really help each other shine in those ways.
Celeste Headlee:
It is a different experience though when you are writing about traumatic experiences, as opposed to promoting a book and having to talk about them again and again, and again?
Jenn Lim:
It is.
Celeste Headlee:
Was it helpful to continue to talk about it or traumatizing?
Jenn Lim:
After a certain point. Initially it was not helpful. Initially it was almost like Groundhog Day like, "Do I really have to relive this again, and again and again?" I don't take this lightly in terms of mental health and especially even I'm in the happiness space. I have never been so low. I had never been so depressed and I never used that word with myself. I respect it, for usage of how we are as human beings. I was in a major hole and by writing about it, I think it's like all of the above, because I had to write, because I had a deadline, and because I wanted to understand why I was going through those things.
And by sharing, instead of being in that hole in my head, I was able to see more light. One thing I also learned over time is that you never know where the light's going to come from, but by just doing things, whether it's talking to a stranger on the street, or just taking a walk, or going back to nature in some way, that's when the light starts shining again. Maybe it's still far in the distance, but those little glimmers is what brought me back to a better place. And we all have that formula for ourselves if we choose to explore it.
Celeste Headlee:
Any last thoughts for people or something I should have asked you and I didn't?
Jenn Lim:
You had amazing set of questions. It's more of the reminder, especially for this audience. And it sounds so cliche, of that oxygen mask and nurturing on greenhouse until we do the work within ourselves. And I know this is a very advanced, mature audience in terms of what that means. It's like the hardest, easiest thing we'll do. And knowing that things can change at any time, whether it's life or death, at least we know even if we had the crappiest day, at least we know we're living a fulfilling life and we're spending our precious times and moments most meaningfully.
Celeste Headlee:
Thank you so much for joining us and for speaking with such honesty.
Jenn Lim:
Thank you. Thank you for having and opening up that space and your amazing questions.